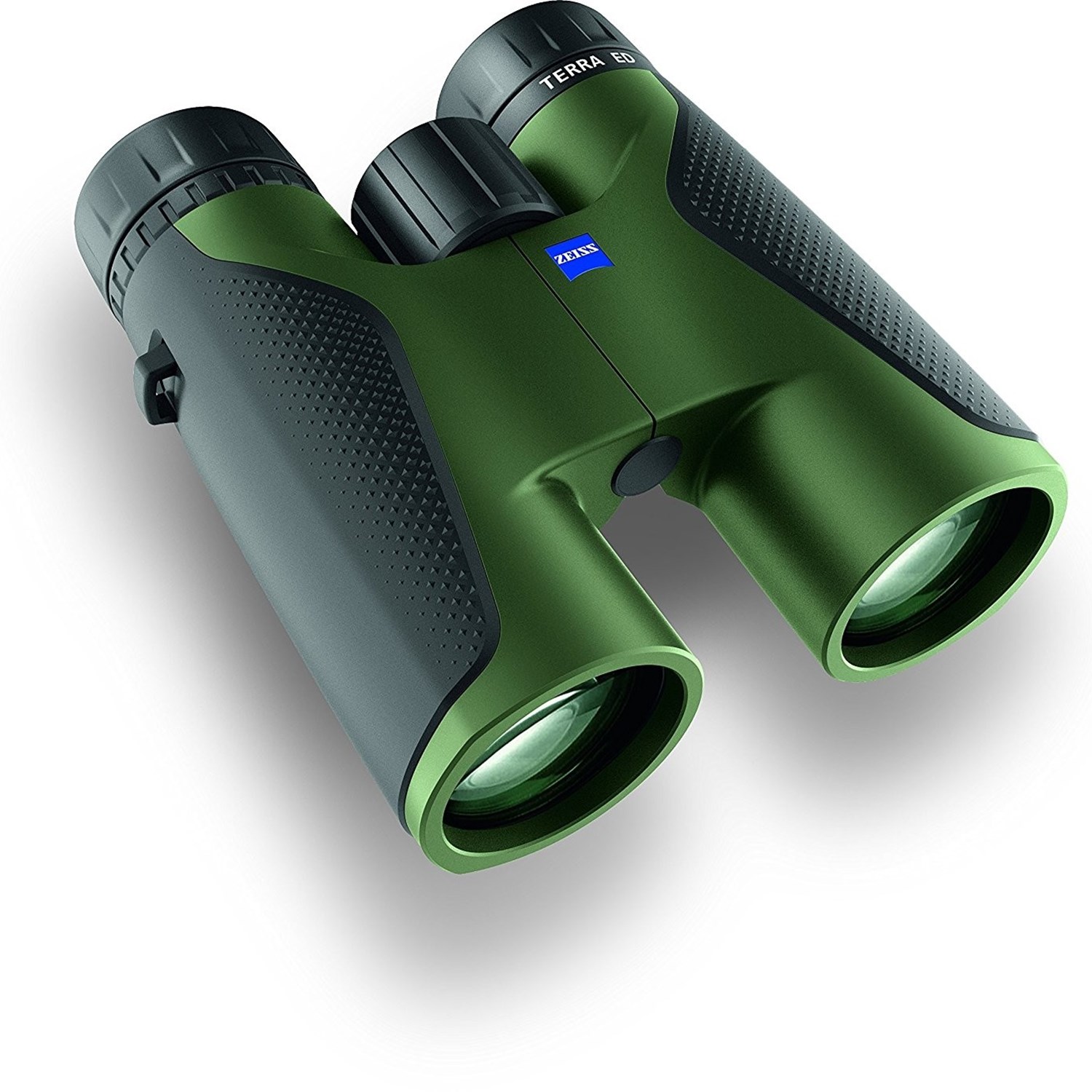 £375.00
ZEISS TERRA ED binoculars are robust, reliable and easy to use. Their state-of-the-art and sleek design makes them not only light but comfortably compact. The highest optical precision and the hydrophobic multicoating guarantee brilliant images down to the very last detail. The TERRA ED binoculars are waterproof and nitrogen-filled, making them rough and ready. TERRA ED binoculars are excellent value for money, making them the perfect entry into the world of ZEISS.
These binoculars are Green & Black in colour 
Compact, light and robust
With its its waterproof casing reinforced with glass fibers, the ZEISS TERRA ED satisfies the high standards of nature lovers. The construction is compact, light and robust. Light-weight, easy to fit into any bag and nearly indestructible, the TERRA ED is the perfect companion.
Excellent, sharp images
Thanks to maximum optical precision and a hydrophobic multi-coating, the ZEISS TERRA ED meets all demands for versatile use. This state-of-the-art coating ensures that the ZEISS TERRA ED will impress you, even under difficult conditions like adverse weather and challenging conditions. These binoculars guarantee outstanding images with the most minute details and 100% natural colors.
Comfortable, fast focusing
The large, smooth and easy-to-grip focus wheel makes focusing particularly easy and, most of all, quick on a ZEISS TERRA ED. You'll notice the advantages of TERRA ED binoculars as soon as you pick them up: your index finger automatically lands on the focusing wheel. You'll never again need to think about how you hold the binoculars when something exciting suddenly happens in front of you. In next to no time, you'll have it sharply in focus. No question about it, you'll never miss an unforgettable moment. Quite the opposite: you'll capture it with razor-sharp precision.
Light, robust with a modern design
The ZEISS TERRA ED family is lightweight and trail-tough so it packs easily and stands up to rugged terrain. Easy-grip surfaces let you grab and lift the binoculars quickly to your eye. Smooth focus and ergonomically correct eyecups make viewing comfortable and natural. At just 310 g, the ZEISS TERRA ED Pocket is the lightest weight model in its class.
Technical Data
Magnification
8 x
Effective Lens Diameter
42 mm
Exit Pupil Diameter
5.3 mm
Twilight Factors
18.3
Field of View at 1000m
125 m
Apparent Field of View
56 °
Close Focus
1.6 m
Diopter Adjustment Range
+3 | -3 dpt
Pupil Distance
58 - 75.5 mm
Eye Relief
18 mm
Lens Type
ED-Type
PrismSystem
Schmidt-Pechan
Lens Coating
Hydrophobe ZEISS MC
Water Resistance
100 mbar
Nitrogen Filling
yes
Functional Temperature in °C
-15 | +60 °C
Height
142 mm
Width

 


at an eye width of 65 mm
120 mm
Weight in Use
725 g
---